Welcome to the
New England Walkers
---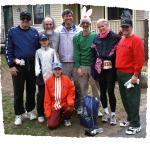 2000 Boston Marathon Team
The NEW ENGLAND WALKERS (NEW) is organized to promote walking as recreation, as healthful exercise, and as a competitive sport. The New England Walkers conducts clinics, semi-organized training walks, hikes, and races. Our clinics and programs are tailored for the average person.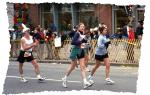 With our regular newsletter, New England Walker members are informed of upcoming race walks, clinics, etc. You may call our Walker's Hot Line number anytime at 781-433-7142, for upcoming race walk activities.
Click here to learn more about the New England Walkers.
The New England Walkers is a member club of the USA Track & Field - New England association.
Several New England Walkers will compete in the 2006 Boston Marathon. Here are final instructions for those competitors.
Many thanks to the New England Walkers that volunteered to work the checkpoints, recording the top wheelchairs and top 100 male and female runners. Click here for instructions.
Paying your NEW dues is now easier than ever!

Now, you may register as a member of the New England Walkers on-line! Both new and existing members may register or renew on-line their club membership by clicking here. It's convenient and will save you the time and hassles of finding and sending in the traditonal paper forms.
---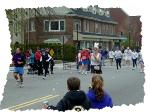 Sign-up for our NEWalkers discussion group. You'll be informed of upcoming meetings and events, and you may discuss New England Walker issues. To join our discussion group, type your e-mail address below. Then click the 'Join Now button:
Before you go walking, please take a moment and sign our Guestbook.
Find what you want by exploring our list of links to other racewalk sites
---
New England Walkers
kuo@world.std.com
39 Oakland Road
Brookline, MA 02445-6700
United States
---
Home | Guestbook| Contact | Suggestion Box | Search
Corrections? Contact Justin Kuo (617-731-9889)