2005 JP Morgan Chase Corporate Challenge -- Volunteer Master
General Information and Responsibilities
Tuesday, June 7, 2005
When to Arrive/Where to Park
All volunteers should check-in with Justin Kuo. Justin will be standing at the intersection of the two crosswalks just past the Volunteer Check-In Tent on the Boston Common Parade Grounds (see site map.) If you get lost, ask for Justin at the Volunteer Check-In Tent. Look for Justin between 4:45 and 6:15 p.m. Please be on time!
Justin will have a mobile telephone with him. That phone number is 508-878-4070.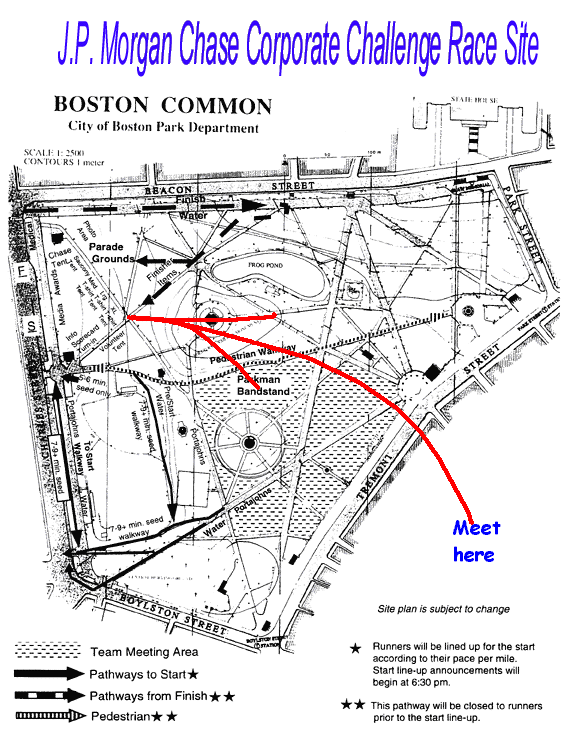 Race parking will be at a premium. Park on non-race streets or use public transportation. The Boston Common Garage is open for parking, however will close for entry at 6:45 p.m.
What to Wear
Please dress for the weather. Volunteers will be given a T-shirt which will identify them as a race official.
Check-In
Justin will give each worker an index card that need's to be signed with a waiver, name, address, home and work phone numbers.
They will be checked-off on a master list and given an "Official" T-shirt.
Justin will be give assignments for the group. Team members arriving late will be directed to meet their captain at their assigned post. Transportation to posts on the race course is the responsibility of each club.
Please note: All volunteers must be over the age of 13 years old.
Problems
At 5:30 p.m. Conventures will assess any areas which show a lack of workers. If Conventures has extra people unassigned, they will be assigned to the areas requiring assistance.
During the Race
The race will begin on Charles Street at 7:00 p.m., near the exit of the Boston Common Garage. Runners will turn left onto Beacon Street, right onto Commonwealth Avenue, and head westbound under Massachusetts Ave. Next, they'll head toward Kenmore Square, turnaround after the MBTA bus station, proceed left onto Commonwealth Avenue, eastbound under the Massachusetts Avenue underpass, then right onto Arlington Street, left on Boylston Street and finish on Charles Street.
The Marshal positions are vital to the success of the race. By volunteering, you are earning money for the Club. Treat your marshal position seriously and make yourself seen and heard. You must be at your post by 6:40 p.m. At that time, a race organizer will sweep through the course checking that all marshals are in position.
As a marshal you have three main duties:
1.
Stricken Runner
Please alert the nearest police officer. You may assist the runner off the course, but it is essential that you return immediately to your post.
2.
Crowd Control
Encourage spectators to stay on the curbside and to cross the street only when there is a large break in the runner stream.
3.
Runner Control
Direct runners to specified areas. Runners that look for shortcuts over the grass at on the Commonwealth Avenue mall can cause a major bottleneck when they get trapped in the fenced area. Keep the runners on the road. Encourage runners to keep moving.
4.
Be loud and aggressive!
5.
Marshals must report to their second position.
Here are the marshal positions:
Commonwealth & Arlington
Commonwealth & Arlington
Commonwealth & Berkeley
Commonwealth & Berkeley
Commonwealth & Clarendon
Commonwealth & Clarendon
Commonwealth & Dartmouth
Commonwealth & Dartmouth
Commonwealth & Exeter
Commonwealth & Exeter
Commonwealth & Fairfield
Commonwealth & Fairfield
Commonwealth & Gloucester
Commonwealth & Gloucester
Commonwealth & Hereford
Commonwealth & Hereford
Commonwealth & Kenmore Street
Commonwealth & Kenmore Street
Arlington between Commonwealth & Boylston
Arlington & Boylston Street
Arlington & Boylston Street
Boylston between Arlington & Charles
Beacon & Arlington <Justin Kuo>
Beacon & Arlington (stand in Beacon Street, with red arrows, directing runners to make a left in Arlington)
If we have enough volunteers, we'll double up some critical positions.

After the Race
Volunteers from all clubs are expected to help clean-up the Boston Common race site. This is critical to the continuation of this event on city property. The word from the race director is "after the assignment, volunteers are expected to check back with Justin in order to sign out for the evening. FAILURE TO CLEAN-UP OR CHECK OUT WILL RESULT IN NON-PAYMENT TO THE CLUB." Please let Justin know if you have a problem returning to the Boston Common.
Check-in and receive plastic rubbish bags.
Pick up all trash on the common and put it in existing barrels
Hand out plastic rubbish bags to large groups of runner to help clean up.
Make sure all cups, empty jugs and boxes at the Finishline Water Station are broke down and cleaned up
Check-out at 9:00 p.m.
That's it. If you need more information, contact Justin Kuo at 617-731-9889. Thank you and I look forward to seeing you at the races. -- Justin Kuo
---