3000 & 5000 meter Racewalks
Johnson County Community College
Overland Park, Kansas 12/07/02
Here are the results of the Johnson County Community College 3,000 & 5,000 meter Racewalks, held on the indoor track at the Johnson County Community College in Overland Park, Kansas on Saturday, December 7, 2002. The racewalk was officiated by: Wayne Armburst, Ron Daniels, Sandy DeNoon, Bob Hickey, Jan Price, and Ginger Mulanax.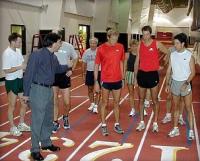 I posted a few photos of the event. Click here to view.
Women's 3,000 meter racewalk
1.
Cheryl Rellinger, unattached
15:05.3
2.
Maryanne Torrelas, Connecticut RW
15:07.9
Men's 5,000 meter racewalk
1.
Curt Clausen, NYAC
21:16.9
2.
Philip Dunn, New Balace
21:27.5
3.
Sean Albert, New Balance NJ
21:42.2
4.
Dave McGovern, New Balance
22:28.6
5.
Gary Morgan, NYAC
25:12.6
6.
Don DeNoon, Orlando Walkers
29:37.0
Ed Parrot, PRO
DNF
Clausen, Dunn and Albert qualified for the 2003 National USATF Indoor Championship coming this March to Boston. The qualifying time is 22:00 minutes. Don DeNoon set a pending American Masters, M55 age group record.
Thanks to Shawn Love of the Missouri USATF Association for locating the track and to David Burgess for opening his facility. -- Justin Kuo
---
kuo@world.std.com
39 Oakland Road
Brookline, MA 02445-6700
United States


---
Home | Guestbook | Contact | Suggestion Box
Corrections? Contact Justin Kuo (617-731-9889)